Some of you have probably seen the latest from
Alice Stroppel
, her
Stroppel Cane
which is a great way to use up all those little cane scraps to get a striking result! It seems to be everywhere at the moment, and rightly so it's a fantastic project!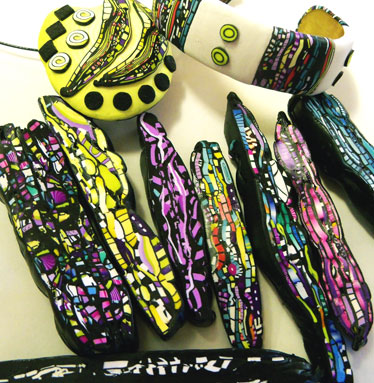 I had a play with it today, just using the scraps from my workbench, from my current project (I posted a picture of my palette and inspiration
here on facebook
- I will share the rest with you later) - haven't even looked at the scraps I have hoarded, yet!
Here's my first attempt - not enough contrast as I used grey as my dividing sheets and there was a lot of grey in the project.
so I used pearl as the dividing colour, I love this cane! Thank you Alice!
In my excitement I have popped the things I made with it in to cure before I took photos - I'll have to show you those later.
Well looking round everyone has had a go, I'm not surprised it is such a fab cane, quick, easy and impressive!
Here's some from my polymer friends
by Arty Becca
by Elsie Smith
Sheet of Stropel Cane by Pips
In pearl by Pips
by Cate Van Alphen
by Randee M Ketzel




If you have some polymer clay scraps kicking around join the
Stroppel Cane Revolution
!